April Review
What a month, what a month! Despite the rain (and snow…), April brought about much excitement! For starters we wrapped up our Road To Redemption sermon series as well as our Doctrine Facebook Live study. We then launched a new study on Facebook call The Dragon and The Sea. Join us every Tuesday night at 7pm as we look into the book of Revelation.
On Palm Sunday we had a record breaking number of baby dedications, as we saw SEVEN babies dedicated to the Lord. We feel honored to be able to come alongside these parents as they teach their kids to follow Jesus.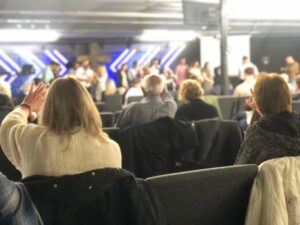 The weeks after were full of celebration as we remembered the sacrifice and resurrection of Jesus Christ. We gathered at Grace Christian Fellowship for a special Good Friday service with other churches in the Cortland community. Then on Sunday we not only were able to reflect upon our Savior, but were also able to witness His grace in the lives of FIVE individuals who made the decision to get baptized! How special was it to watch these men and women go public with their faith?
The celebration didn't end there though! As we gathered the last weekend of April we explored our Core Values as a church during Vision Sunday and celebrated EIGHT years as The Chapel! We don't know about you, but we believe the best is yet to come and we can't wait to see what God continues to do in Cortland County.
---
May 1st – Come join us as we welcome an incredible guest speaker, Dr. Mike Webster!
May 7th – The Chapel Women's Ministry will be hosting a Mother's Day Luncheon at 1pm. Whether you are a mom, want to be a mom, have a mom, or know a mom, you are welcome! Note that this event will be potluck style, so please bring a dish to pass.
May 8th – We can't wait to celebrate all of the incredible moms in our church and community! Please join us as four different moms share their heart on Psalm 119:89-96.
May 15th – We will be starting a new sermon series on who we are and what our purpose is as The Church. You won't want to miss this! Join us in person or online!
May 31st – We cannot wait for our next Fresh Food Giveaway! Come on out to The Chapel at 4:30pm if you'd like to take part or know someone who could benefit from a free box of fresh food.
---
James Series
Father's Day